I am heartbroken to hear of the death of Sufi singer Amjad Sabri.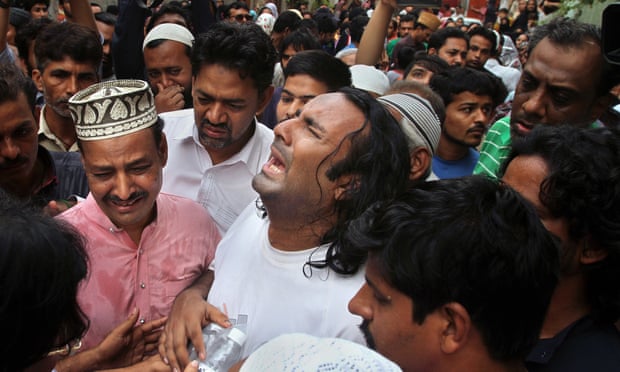 Extreme Nationalism and Religious fundamentalism have much in common. They may be on opposing sides but they are ultimately motivated by the same hateful and narrow minded forces.
How can we seek to maintain core values governed by tolerance and compassion in an increasingly volatile world?
I agree with Guardian columnist Molly Crabapple today when she writes:
link provided below:
https://www.theguardian.com/…/global-intolerance-donald-tru…
"What can guide us through this cesspit? Cosmopolitanism. Art. Solidarity. Universal ethics. These might seem like fragile concepts, but they are ones that people have died for.
Jo Cox was killed on 16 June. As an MP, Cox fought for refugees, for Britain's Muslim community, for Palestinians under siege in Gaza and for Syrians under barrel bombs in Aleppo. She took brave, unpopular stands, even breaking with her own party, because she did not believe that a foreign life was worth less than a British one.
On 22 June, the Taliban gunned down Amjad Sabri. Sabri was famous as a master of the qawwali, an exquisite, 800-year-old form of Sufi devotional music, whose complex, lyrical beauty brings listeners closer to God. Born on the subcontinent, the qawwali is one of Islam's great contributions to culture, but to the Taliban, religion is only legitimate if its stripped of art. To them, qawwali singing represent a dangerous impurity – so they murdered one of it great practitioners.
They are dead. Worse, their deaths seem part of a great shrinking of the world, into one crueler, pettier, stupider and more violent – a world where machine gun towers seal off borders, kids drown in the Mediterranean, fanatics murder artists and orange jackasses trade in fear.
If there's one note of hope, its this. History keeps moving. Tomorrow always comes, and we help shape what that tomorrow will be. An MP and a singer made the world larger just by living. We build the world by living too. In spaces large and small, we can fight for universal ethics, cosmopolitanism, art, solidarity. On the beaches of Lesbos, across the mud of borders, in the streets of Chicago, against our lovers' lips."
https://www.theguardian.com/…/pakistani-sufi-singer-shot-de…